Best Motorcycle Rides in North Carolina – Secrets
Here's another bunch of the best motorcycle rides in North Carolina that few ever discover – it's a nice loop ride that includes a section riding the Blue Ridge Parkway –
The roads shown south of I-40 are pretty well known biker roads. US 276 runs from Waynesville to the Blue Ridge Parkway, always a popular North Carolina motorcycle ride. The section of the Blue Ridge Parkway shown includes Mt. Pisgah and The Pisgah Inn. NC 151 is legendary for it's treacherous curves as it plunges towards  the valley that leads into Candler.
Most riders then point their wheels to I-40 or US 19 and miss out on the roads that lie north of I-40. This area gets little attention from motorcycle touring visitors who are lured to the more publicized roads elsewhere. To the east lie the suburbs of Asheville, the west is mostly rural valley farms.
The two primary roads north of I-40 are Newfound Road which runs from Canton to Leicester, and Leicester Rd (NC 63) which runs into Asheville. Both are decent rides, particularly the west end of NC 63 as it climbs out of the valleys to intersect NC 209 – The Rattler (Click for ride guide). Still, they are the most heavily used roads so this route avoids them in favor of the empty two lanes which provide a much more relaxing and fun scenic motorcycle ride.
You'll want to pay attention to the map and watch for the turns as it's easy to wander off on the maze of small surrounding roads. The turn onto Hookers Gap Rd is not well marked and the road can be hard to spot, but the ride is worth the effort. You'll also find a short unpaved section of road where Morgan Branch Rd runs into S. Turkey Creek Rd. Be sure to veer right and take the high road where N. Turkey Creek meets Earlys Mountain Rd. NC 215 makes a nice alternative to NC 110 leading out of Canton.
You'll enjoy a variety of motorcycle riding experiences on this nice loop ride. The valley roads often follow along rushing streams or wind through twisty mountain passes. You'll enjoy farms and pastures, the park atmosphere of the Blue Ridge Parkway, and the contrast of the massive paper mill when passing through Canton. There are historic buildings and timeless views.
Step-by-step Route: (uses NC 215 instead of NC 110, either does the job)
Start in Canton. Follow NC 215 to Bethel.
5.4 mi Turn left  @ stop sign onto Sonoma Road. Junction NC 215 and Sonoma Road.
6 mi Turn right @ stop sign onto NC 110. Junction Sonoma Road and NC 110.
6.4 mi Turn left @ traffic light onto US 276. Junction NC 110 / US 276 / NC 215. Follow to Blue Ridge Parkway.
20.9 mi Left turn onto ramp to Blue Ridge Parkway.
21 mi Turn right  onto Blue Ridge Parkway (towards Asheville). Follow to next exit.
27.3 mi Turn left onto NC 151. Junction Blue Ridge Parkway and NC 151. Steep descent with tight switchbacks.
39.1 mi Continue through traffic light @ US 19 onto Dogwood Road. Traffic light. Junction NC 151 and US 19.
41.4 mi Turn right onto Hookers Gap Road. Junction Dogwood Road and Hookers Gap Road. Poorly marked, be alert for this turn.
46.5 mi Cross Newfound Road @ stop sign to continue on Morgan Branch Road. Junction Hookers Gap Road and Newfound Road.
49 mi Unpaved section of road for short distance. Cross single lane bridge.
49.4 mi Turn right @ stop sign onto S. Turkey Creek Road.
52.4 mi Turn left  @ stop sign onto NC 63 (New Leicester Highway). Junction S. Turkey Creek Road and NC 63.
53.7 mi Turn left onto N. Turkey Creek Road. Junction NC 63 and N. Turkey Creek Road.
55.1 mi Keep right on Earlys Mountain Road. Junction N. Turkey Creek Road and Earlys Mountain Road.
Earlys Mountain Road becomes Big Sandy Mush Road.

59.6 mi Turn left onto Willow Creek Road. Junction Big Sandy Mush Road / Willow Creek Road / Bald Creek Road.
Willow Creek Road becomes Beaverdam Road

69.6 mi Turn right @ stop sign onto Newfound Road and follow into Canton. Junction Beaverdam Road and Newfound Road.
71 mi Stop sign. Junction Beaverdam Road and Main Street in Canton.
Don't underestimate these roads, they are plenty challenging and worth the time to investigate. You'll see sights others miss, and experience a part of the mountains rarely visited. You'll pass by homes and farms that have been there for hundreds of years and many generations. It's a ride through the history and heritage of the Smokies. Enjoy!
______________________________________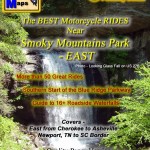 These roads are just a few of the more than 50 great motorcycle rides found on America Rides Maps pocket map  #6 – The Best Motorcycle Rides EAST of Great Smoky Mountains National Park.
____________________________________________________________________
– Wayne Busch lives in Waynesville, NC, where he produces the most detailed and comprehensive and up-to-date motorcycle pocket maps of the Blue Ridge and Smoky Mountains to help you get the most of your vacation experience. See them here – AmericaRidesMaps.com
Wayne is an advanced motorcycle instructor for Total Rider Tech teaching Lee Parks Total Control Advanced Rider Courses. Isn't it time you looked into advanced rider training to ride more confidently and safely? It can transform your mountain riding experience.  Total Rider Tech
____________________________________________________________________