Two good motorcycle roads are found along NC 209, a.k.a. "The Rattler". They make a nice side loop on the popular motorcycle ride from Junaluska to Hot Springs in North Carolina.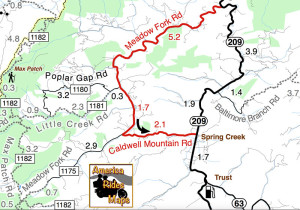 Meadow Fork Road spurs off NC 209 about 7 miles south of Hot Springs. The road follows the twisty banks of a whitewater creek for quite a while climbing gently on the challenging and scenic run. It  leads into the Pisgah National Forest where it becomes one of many unpaved forest roads high in the mountains.
Caldwell Mountain Road meets Meadow Fork Road in 6.9 miles. 2.1 mile long Caldwell Mountain Road will take you over the mountain and down to meet NC 209 near the middle of the long straight stretch across the Spring Creek Valley.
Caldwell Mountain Road and Meadow Fork Road form a nice loop on the west side of NC 209 when joined together. It's a good way to vary the ride to and from Hot Springs and  see a few different sights.
Both Meadow Fork and Caldwell Mountains Roads are paved, though if you miss turning at their junction you will run out of pavement before long when Meadow Fork Road reaches the National Forest. If you are on a dual-sport or adventure bike, this is one way to access the great unpaved roads that lead up to Max Patch bald and wind into Tennessee and the eastern edge of Great Smoky Mountains National Park. (See map OR-1)
Both of these roads are easy to find from NC 209. Their junctions are well marked. There is a prominent sign for the Meadow Fork Campground which marks the junction and it's easy to spot Caldwell Mountain Road cutting across the felids in the valley as you approach.
Caldwell Mountain Road has some nice curves on the climbs and a few brief long range views. The pavement is a little bumpy in places, but generally is pretty good overall.
Meadow Fork Road follows the Roaring Fork River from NC 209 as it carves through the mountains for 7 miles to reach the junction with Caldwell Mountain Road. The road  traces the bank of the river  making it a nice curvy motorcycle ride for the most part. The pavement is in good shape – a long section near the river washed out and was replaced a few years ago with nice new pavement.
Neither road has scenery you'll be framing on the wall, though in general it's pretty nice with small remote and isolated coves and valleys, the whitewater river along the road, and lots of hundred year old barns and the like.
This side loop off NC 209 adds a nice diversion, a little something different, without adding a significant amount of time to the longer motorcycle ride on classic NC 209 – The Rattler.
Related – Map and info about NC 209 – a.k.a "The Rattler"
America Rides Maps Map #6 – The Best Motorcycle Rides EAST of Great Smoky Mountains National Park
_______________________________________________________________________________
– Wayne Busch lives in Waynesville, NC, where he produces the most detailed and comprehensive and up-to-date motorcycle pocket maps of the Blue Ridge and Smoky Mountains to help you get the most of your vacation experience. See them here – AmericaRidesMaps.com
Wayne is an advanced motorcycle instructor for Total Rider Tech teaching Lee Parks Total Control Advanced Rider Courses. It's time you looked into advanced rider training to ride more confidently and safely, it will change your mountain riding experience. It worked so well for me I became an instructor! Total Rider Tech
_______________________________________________________________________________