The small historic town of Hot Springs, NC, has long been a familiar pit stop for mountain area motorcycle riders. It is situated north and west of Asheville near the border with Tennessee on the banks of the French Broad River. The town is popular with rafters and hikers, has couple biker friendly places to eat, and there are natural hot springs to soak in at the spa.
Motorcycle riders are attracted to this area for the wonderful and tricky two lane back roads which thread through the surrounding mountains. The newfound popularity of NC 209 a.k.a. "The Rattler" as one of the top 10 motorcycle rides in the Blue Ridge Mountains is bringing more motorcycle touring enthusiasts to discover this playground of nice biker roads.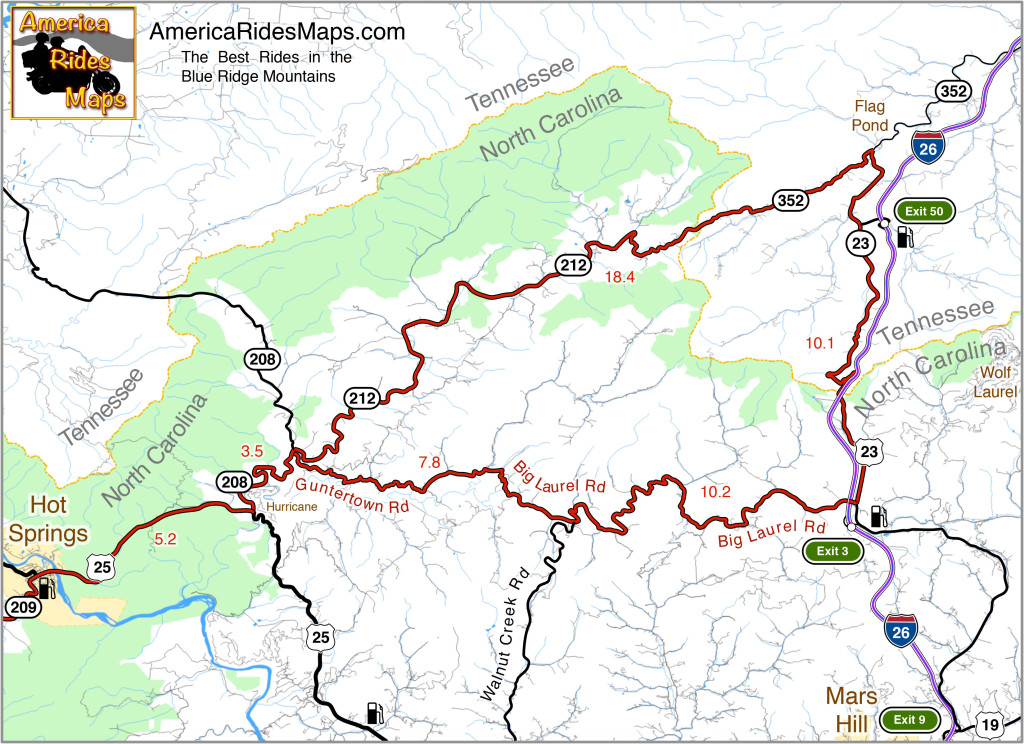 The map shows a motorcycle loop ride that takes you across the border to Flag Pond, TN., then loops you back to Hot Springs.
Leaving Hot Springs, go east on US 25 / 70 making the gentle climb then descent to the junction with NC 208 at Hurricane.
Turn north (left) and follow NC 208 along the winding river. As you come to the junction of NC 208 and NC 212 note the small bridge over the creek. Guntertown Road is on the right just before the bridge, NC 212 is at the stop sign once you cross the bridge.
The north leg ( NC 212 / TN 352 ) of the triangle shaped motorcycle ride is a pretty nice cruise following along creeks and streams for the most part with a few tricky curves thrown in to keep you on your toes.
The east leg ( TN 23 / US 23 ) is pretty relaxed riding, there are a couple passing zones on the long inclines. You'll want to keep an eye out for the turn onto Big Laurel Road, then hold on for the wild ride back.
Big Laurel Road is the south leg of the loop and full of tricky curves. Be alert for scattered debris in a couple of the hairpins around bluff faces. Walnut Creek Road spurs off to the south, be sure you veer in the correct direction when you reach this junction to remain on Big Laurel Road.
Guntertown Road leads you east to the small bridge on NC 208. Retrace your path to return to Hot Springs.
The roads in this area can be extremely challenging and tight. If you prefer an easier course, the ride to Flag Pond on NC 212 / TN 352 can be done out-and-back. There is a large pull off riders use for a break at the junction of TN 352 & TN 23.
————————————————————————————
– Wayne Busch lives in Waynesville, NC, where he produces the most detailed, comprehensive, up-to-date motorcycle pocket maps of the Blue Ridge and Smoky Mountains to help you get the most of your vacation experience. See them here – AmericaRidesMaps.com