A scenic motorcycle ride on an abandoned road in Great Smoky Mountains National Park.
Road to Nowhere Motorcycle Ride Map
Lake View Drive in Great Smoky Mountains National Park was planned to arc around the north shore of Fontana Lake to connect to the southern lake loop road (NC 28) at the Fontana Dam. The project was abandoned about half way through and has come to be known as "The Road to Nowhere".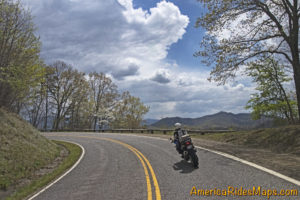 The road starts in Bryson City, NC as Everett Street. This is a great motorcycle ride to add to your lunch plans, a nice little side trip. There are a lot of good places to eat in Bryson City. One of them, The Cork and Bean, sits at the corner of this route (Everett St. / Main St.) in town.
The road climbs gently from town arcing to the west as Fontana Road. Its a section of gentle flowing curves.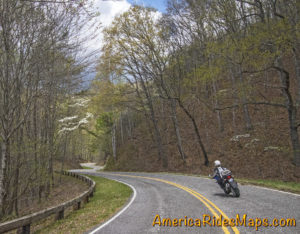 There is a sign at the park border. The road gets much tighter and from here on with curve after curve the whole way.
There are a few spots to pull off and get views of the lake.
The road ends at a paved parking loop. A series of brown slats barricade the road beyond.  You can just see the stone arch tunnel where the road ends from the turn-around. Hiking only once through the tunnel.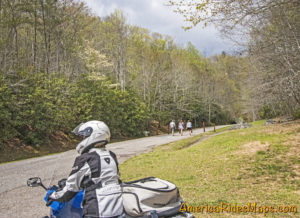 There are many stories and controversies over this road. Some see it as a boondoggle. The government has yet to compensate for the land. A family cemetery was isolated, the park service periodically ferries them by boat. Regardless, the result is a really curvy ride with some nice views we can enjoy.
It's 8.5 miles from town to the end of the road, so you can make it a quick out-and-back ride or stop to savor the views and the wildlife. There are other nice roads nearby if you enjoy exploring the more adventurous back roads including some good unpaved roads.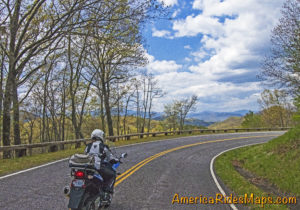 You'll find this road on map #7,Map #8, Map 100 Great Motorcycle Rides in the Smoky Mountains, and others from America Rides Maps. There are more great motorcycle roads in the Blue Ridge Mountains than anywhere else – find them here;