Blue Ridge Parkway Motorcycle Ride Strategies:
Whether it's a one day trip or part of an epic adventure, it's good to have a strategy when setting out on a 469.1 mile long ride of the Blue Ridge Parkway. Here are some things to consider based on how long you have to make your end-to-end trip.
1 Day End-to-End
Some riders look for high mileage challenges. The Blue Ridge Parkway can be one of them – 470  miles with a 45 mph speed limit can be done in daylight on a long summer day. You'll even have time to stop at a few overlooks for quick photos.
The key is "plan your gas stop so it's close to a parkway exit to save time." You'll have to make a gas stop – choose the wrong exit and you can waste half an hour before you get to a pump.
I eat breakfast before and dinner after the ride, and pack a sub sandwich so I can eat at overlooks when I take breaks. Expect fog / clouds / mist / cool / damp in the morning, have a layer to shed in the afternoon. Go on a weekday, there will be less traffic. There's no need to speed, but at the same time, if you're slow through tight curves it's going to be a long day. The ride is best done from north-to-south as it puts you in the highest sections in the afternoon when the clouds have lifted and it's warmer.
2 Days Riding End-to-End
2 days still means 2 pretty full days of riding.  You'll want to be efficient with your gas stops and eating or it will sacrifice your time for sightseeing and enjoying the views. You'll save time if you coordinate your time off the parkway well. Stop for gas where you can also eat lunch. Stay where you can eat or meals are close. You don't need to feel rushed on a 2 day ride, but you do want to stay on track.
My strategy is to cover as many miles as possible the first day, then relax and enjoy the second day knowing you have less distance to cover. A 2 day ride is better done from north-to-south. Boone, NC is a good layover coming south. The North Carolina mountains really start to reach their heights south of Boone, you'll be in them constantly the second day and have time to enjoy them. When going north I usually overnight near Hillsville or Floyd, or Meadows of Dan. You'll have time to stop at Peaks of Otter and savor some of the best views from the Virginia section near the north end of the ride.
3 Day Ride End-to-End
If you want to get a full Blue Ridge Parkway experience, 3 days is minimum. If you're planning to camp, it eases the pace.
With 3 days you can stop and see some of the cabins, the mill, and other sights along the road that you'd otherwise blow by.
3 days also opens the door to enjoying other outstanding rides in the Blue Ridge Mountains. Some connect to the parkway, some are close to it.
For the road warrior, it could mean doing the Blue Ridge Parkway in 2 days, then looping Great Smoky Mountains National Park to ride the Dragon at it's western end on a three day blast!
Riding Sections of the Parkway
If you see only one section of it, ride between Asheville, NC  and Maggie Valley, NC. That 50 mile arc goes from the low point in NC to the highest point on the entire road with much of it above 5000 elevation. There are frequent overlooks and sweeping views, dramatic drops and rocky passes.
Another great section is the high remote stretch between Asheville, NC and Little Switzerland, NC. Mt. Mitchell State Park makes a nice side trip to the top of the highest mountain in the east. Nice long range views.
The Epic Adventure
The Blue Ridge Parkway is one part of the park road system. At the north end it continues as the Skyline drive into Shenandoah National Park for another 105 miles. At the south end, it meets US 441 to take you 30 miles across Great Smoky Mountains National Park. You can ride more than 600 miles on 2 lane twisty mountain roads entirely within our National Parks.
Leaving the National Parks you can then follow the parkways, skyways, and legendary back roads that weave throughout the south end of the Blue Ridge Mountains. I'd run through the Dragon, out across the Cherohlala Skyway, then down into north Georgia, looping back into the mountains south of the Blue Ridge Parkway.
The "I don't want to ride the parkway" strategy

Maybe you're one of millions who have already enjoyed a motorcycle ride on the Blue Ridge Parkway. Maybe you find it's more enjoyable to stay in one place than be on the move.
The best location to maximize your access to the best motorcycle rides is somewhere along the south side of Great Smoky Mountains National Park. You'll find less traffic and congestion, numerous motels, cabins, and campgrounds. There are plenty of rooms on the north side of the park in Gatlinburg and Pigeon Forge, but more of the good roads are on the other side of the park. Crossing through or going around Great Smoky Mountains National Park gets repetitive.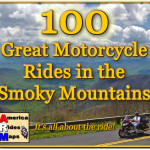 Find a good base camp and get a copy of my 100 Great Motorcycle Rides in the Smoky Mountains map. You'll spend more of your time riding that way. You're surrounded by great roads, the map will show you how close they are! It couldn't be easier!
Get map 100 Great Rides in the Smoky Mountains
see  The most detailed Maps Here – America Rides Maps
If you enjoy photos of motorcycle riding in the Blue Ridge and Smoky Mountains, like MY BLUE RIDGE MOTORCYCLING FACEBOOK PAGE.

____________________________________________________________________
– Wayne Busch lives in Waynesville, NC, where he produces the most detailed and comprehensive and up-to-date motorcycle pocket maps of the Blue Ridge and Smoky Mountains to help you get the most of your vacation experience. See them here – AmericaRidesMaps.com
____________________________________________________________________