Best Blue Ridge Parkway Overlooks by Motorcycle – Highest Point
Richland Balsam Overlook
Elevation – 6053 feet
Milepost – 431.4 
The highest point on the Blue Ridge Parkway is in North Carolina at milepost 431.4. Here, the nations top motorcycle ride reaches an elevation of 6053 feet as it carves it's way along  the southern exposure of the Balsam mountain range.
There is no dramatic climb to reach the long paved overlook which spans the radius of the broad curve around the mountain. The Blue Ridge Parkway maintains a steady altitude through this long remote and isolated section of the national park rarely dipping below 5000 feet. While the grades are gentle, the curves are full of surprises and the drop-offs along the roadside inspire a real respect for the altitude on this best motorcycle ride in the USA.
Only 37.7 miles from the southern end of the Blue Ridge Parkway at Great Smoky Mountains National Park near Cherokee, NC, a ride to the high point is an easy one to squeeze in even if you're not on an end-to-end parkway ride on your motorcycle. From Asheville, Waynesville and Maggie Valley, it's a wonderful way to spend a few hours riding a motorcycle on one of the the best scenic motorcycle rides you'll find anywhere.
As you might suspect, this spot is one of the most remote and isolated on your Blue Ridge Parkway motorcycle ride. It's a long ride for gas, tank up before you go. The high parts get the wet weather first – if it looks cloudy from the valley, you may not see much when you get up high. It will be a lot cooler than down in the valley and more windy, be prepared.
Map of the best section of the Blue Ridge Parkway
See a 360 degree panoramic view at Virtual Blue Ridge - http://www.virtualblueridge.com/parkway_tour/overlooks/00431b.asp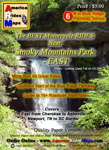 You'll find the highest point on the Blue Ridge Parkway on America Rides Maps motorcycle pocket map -
#6 The Best Motorcycle Rides Near Smoky Mountains National Park – EAST http://shop.americaridesmaps.com/6-The-Best-Motorcycle-Rides-Near-Smoky-Mountains-Park-EAST-NC017.htm
____________________________________________________________________
- Wayne Busch lives in Waynesville, NC, where he produces the most detailed and comprehensive and up-to-date motorcycle pocket maps of the Blue Ridge and Smoky Mountains to help you get the most of your vacation experience. See them here - AmericaRidesMaps.com
Wayne is an advanced motorcycle instructor for Total Rider Tech teaching Lee Parks Total Control Advanced Rider Courses. Isn't it time you looked into advanced rider training to ride more confidently and safely? It can transform your mountain riding experience.  Total Rider Tech
____________________________________________________________________