I've found another place which welcomes the motorcycle vacation traveler looking for a place to either spend the night or base out of to enjoy the hundreds of miles of great motorcycle rides just over the hill. It's just a few miles off the Blue ridge Parkway from the Soco Gap exit.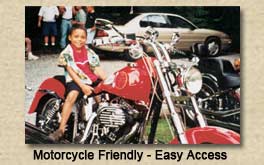 Creek Wood Village Resort is located in the heart of Maggie Valley, directly behind the Maggie Valley Festival Grounds on three and one half FLAT acres with easy access for motorcycles and trailers. It's convenient to most everything in town including the restaurants, shops, waterholes and Wheels Through Time motorcycle museum.
They have one, two and three bedroom cabins, all with full kitchens, fireplaces, color cable T.V. and the most beautiful views of the mountains.
No hectic life style here. Just kick back and set on your porch, enjoy the mountains, reflect your day in the quiet pond or listen to the water rushing through the nearby creek,  and take in the views after a great day of riding some of the best touring rides around.
Totally motorcycle friendly, they also have two fishing ponds and 650 foot of rushing creek.