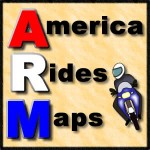 America Rides Maps is taking a break for a 2 week motorcycle tour –
If you need your comprehensive Blue Ridge and Smoky Mountains motorcycle ride maps before September 15, 2013 get orders in now!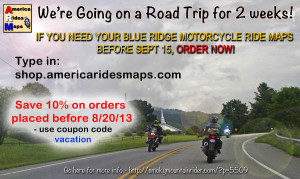 Use coupon code vacation to save 10% shopping online on orders received before August 20, 2013. Coupon expires August 20.
Order Motorcycle Ride Maps here http://shop.americaridesmaps.com
Last day orders will mail out before we leave is August 24 -
Shipping will resume on September 8 -
Orders placed between August 24 and September 7 won't be mailed until September 8.
Maps are shipped 1st class or priority mail, average 2 -3 days delivery time.
There are more great motorcycle rides in the Blue Ridge and Smoky Mountains than anywhere else!
——————————————————————————————————————————————————–
Other Sources for America Rides Maps - 
There will be one online source for America Rides motorcycle pocket maps during my absence – the BlueRidgeBookstore.com.
You can also buy maps here;
Asheville Harley Davidson in Swannanoa, NC
Eurosport Asheville in Asheville, NC
AHoliday Motel in Maggie Valley, NC
The Mountaineer Restaurant in Maggie Valley, NC
While maps are sold at other places, these are the ones most likely to have the full complement of them and adequate supply.
If you are planning a motorcycle trip to the Blue Ridge Mountains before September 15, best to order the maps you need for the trip now. I ship 6 days a week, often twice a day, 1st Class or Priority Mail. Your maps will arrive in 2-3 days on average.
Best to get your Blue Ridge Motorcycle Ride maps early – once you see how many outstanding roads there are to choose from you're likely to shift your plans around a bit. There's no need to cover huge distances to get to the next great ride, there are scores of them near wherever you choose to visit and I've linked them together into a huge playground of motorcycle riding fun.
Go here to shop online - http://shop.americaridesmaps.com
____________________________________________________________________
Where are we going on our motorcycle trip?
Jackie and I will be touring the Alps of Europe with RoadRUNNER Travel and our friends from RoadRUNNER Magazine. We've rented 2 BMW F800 GT bikes.  We'll climb the mountain passes of Germany, Austria, Slovenia, Italy, and Switzerland, spending the nights in small villages along the way.
————————————————————————————————
Wayne's Comments for the Curious
It's my job to seek out and catalogue the best motorcycle rides in the Blue Ridge Mountain region stretching from Virginia to north Georgia. Over the years the list of great two lane mountain roads has grown to many hundreds and constantly expanded the series of motorcycle pocket maps I strive to keep more up-to-date than your GPS, Google, or other sources. It's a job I take seriously, a passion, and a way to make my living from the seat of a motorcycle.
"There are more great motorcycle rides in the Blue Ridge and Smoky Mountains than anywhere else" is my claim and I'd feel dishonest if I didn't back it up with experience. Several times a year I go exploring around our country to experience other great motorcycle rides and see how they stack up to what I know of here in the southeast. I've been all over the nation. This year however, I've raised the bar.
I've been saving all my pennies to make one ultimate trip – riding the Alps of Europe. I've been missing those fun trips exploring new areas, particularly explorations in the mountains of California which I'm getting to know pretty well (at least the north half of the state). In about 2 weeks, Jackie and I fly to Munich, Germany to join a motorcycle tour with our friends at RoadRUNNER Magazine. We'll spend almost 2 weeks riding through the Alps in Germany, Austria, Switzerland, Slovenia, and Italy. I've just got to know how our roads stack up against some of the best in the world.
 ———————————————————————————————-
- Wayne Busch lives in Waynesville, NC, where he produces the most detailed and comprehensive and up-to-date motorcycle pocket maps of the Blue Ridge and Smoky Mountains to help you get the most of your vacation experience. See them here - AmericaRidesMaps.com
Wayne is an advanced motorcycle instructor for Total Rider Tech teaching Lee Parks Total Control Advanced Rider Courses. Isn't it time you looked into advanced rider training to ride more confidently and safely? It can transform your mountain riding experience.  Total Rider Tech
____________________________________________________________________