Dual Sport Ride Map Near the Dragon and Cherohala Skyway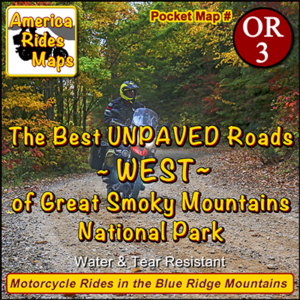 The Best Unpaved Motorcycle Roads WEST of Great Smoky Mountains National Park is the third motorcycle ride map of the unpaved roads and trails from America Rides Maps.
This new map details the great dual sport rides near the Dragon at Deals Gap, North Carolina, along the long stretch of the Cherohala Skyway, and near Tellico Plains, Tennessee. Enjoy the legendary Tail of the Dragon AND take your adventure bike out in the woods on the same day of great motorcycle rides. ADV Riders will love these detailed maps.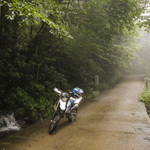 This motorcycle ride map features the great motorcycle roads found near the Nantahala Gorge, as well as the great riding off road riding around Franklin, North Carolina. Enjoy roadside waterfalls, mountain top views, and miles and miles of superb unpaved riding.
Discover motorcycle rides in the vast wild and scenic areas of the Nantahala and Cherokee National Forests on Forest Roads and accessible trails.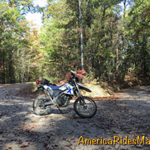 America Rides Maps has also produced dual sport motorcycle ride maps of the great adventure rides east of Great Smoky Mountains National Park and the superb roads near the Blue Ridge Parkway south of Smoky Park. They are sold individually and as a 3 map set.
See this new map and the others here –
http://americaridesmaps.com/products/the-best-unpaved-roads-west-of-smoky-park