The beautiful region south of Great Smoky Mountains National Park is often called "The Land of the Waterfalls" and is one of the most popular areas to ride on a motorcycle.  More than 20 nice waterfalls are located close to the roadside, another 40 or so require more serious hiking than most bikers are willing or equipped to tackle.
Dry Falls is one of the most unique though it's an easy one to miss on your motorcycle ride despite being well marked. It's easy to miss as it's not directly visible from the road so you're not tempted off the wonderfully curvy section of US 64 as it snakes through the spectacular Cullasaja Gorge between Franklin and Highlands.
This section of US 64 can be a very enjoyable ride on a motorcycle, though it's too often hampered by other traffic drawn to see the sights and wonders. On those typical days when there is a good amount on traffic on the road, it's definitely worth the time to stop for a break and make the short walk from the parking area to admire Dry Falls.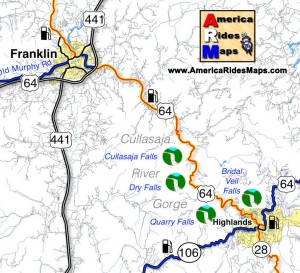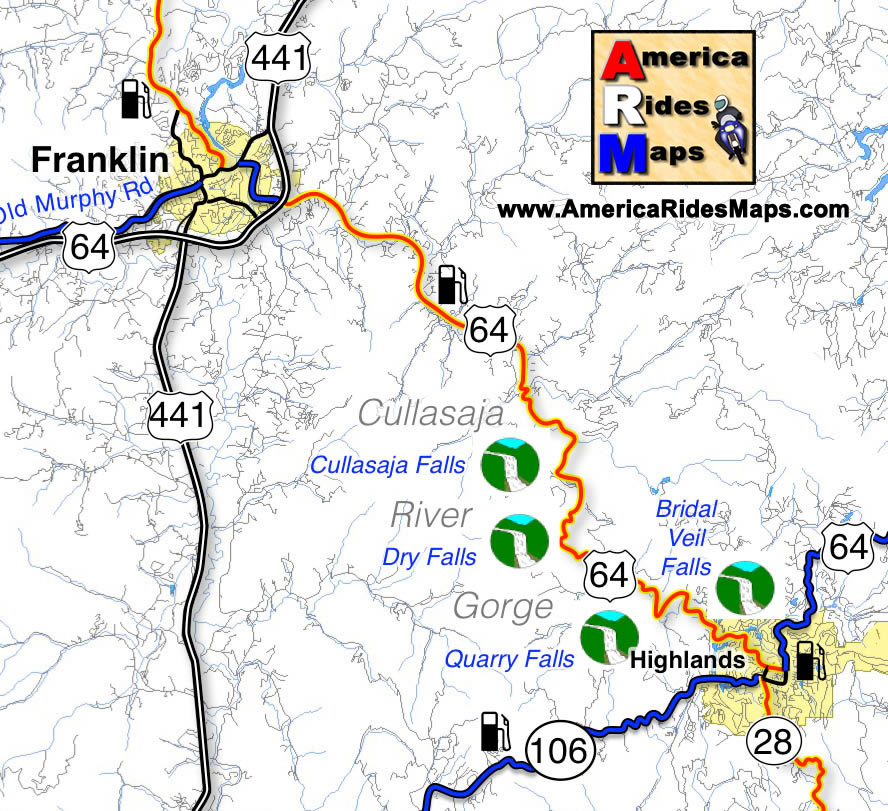 Dry Falls got it's name because you can walk beneath the falls without getting wet. A large cavern beneath the rock ledge at the top of the falls has a path where you can pass behind the cascade to emerge on the other side. It has the largest and best improved parking area of all the falls in the area, so it's an easy place to stop and enjoy.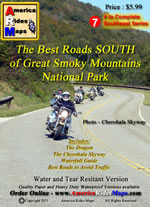 Find more than a dozen roadside waterfalls on America Rides Maps map #7 – The Best Roads SOUTH of Great Smoky Mountain National Park
__________________________________________________________________
– Wayne Busch lives in Waynesville, NC, where he produces the most detailed and comprehensive and up-to-date motorcycle pocket maps of the Blue Ridge and Smoky Mountains to help you get the most of your vacation experience. See them here – AmericaRidesMaps.com
Wayne is an advanced motorcycle instructor for Total Rider Tech teaching Lee Parks Total Control Advanced Rider Courses. It's time you looked into advanced rider training to ride more confidently and safely, it will change your mountain riding experience. It worked so well for me I became an instructor! Total Rider Tech
____________________________________________________________________