If you're looking for that epic ride this is one of the best ever!
When you link these mountain roads together you'll spend almost all your time on 2 lane roads, most of it National Parks or on scenic parkways, and you'll experience some of the best motorcycle rides in the USA.
Skyline Drive – 105 Miles
The Skyline Drive runs the crest of Shenandoah National Park in Virginia. It starts at Front Royal and runs seamlessly into the Blue Ridge Parkway
Blue Ridge Parkway – 469 Miles
The Blue Ridge Parkway follows the highest ridge lines of the Blue Ridge Mountains through Virginia and North Carolina. It ends at Great Smoky Mountains National Park.
Great Smoky Mountains National Park – 47 Miles
The most visited National Park in the nation, ride across on US 441 passing from North Carolina into Tennessee at the crest, then turn west on Little River Road. Follow through to the Foothills Parkway.
Foothills Parkway – 17 Miles
Continue west on the scenic Foothills Parkway to reach US 129
The Dragon – 15 Miles
Turn south on US 129 to enter the Dragon. Pass through and back into North Carolina. Continue south to Robbinsville, NC to head west again on the Cherohala Skyway.
The Cherohala Skyway – 52 Miles
Climb back up into the mountains and return to Tennessee near the mid-point of the ride. Turn south on 68 when you reach Tellico Palins, TN and follow this wonderful road into Georgia.
GA 60 – 23 Miles
Work your way east on GA 60 to Blue Ridge, GA, then continue on one of Georgia's best motorcycle roads.
The Gauntlet – 133 Miles
Wrap it all up with a loop around the Gauntlet. You may continue on GA 60 or veer north on Skeenah Gap Road to start the loop.
Of course, this is just an overview. It's a great introduction to riding in the Blue Ridge Mountains, still it only scratches the surface. It's pretty straightforward to navigate, but you'll want to do some planning. There are many variations and additions to make it even better.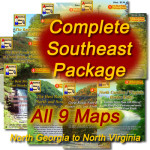 You'll find this region covered in detail with America Rides Maps. In addition to these well known roads, almost 500 more are highlighted on a series of easy-to-read durable maps that will fit in your pocket with the info you depend on like out-of-the-way gas stations, mileage, and how to best link them all together.
The are more great motorcycle rides in the Blue Ridge Mountains than anywhere else. Any one of America Rides Motorcycle pocket ride maps is a vacation adventure in itself. With the full set you'll have the freedom to point your wheels in any direction and know you're on the best rides. Take a look here and see how easy it is – http://shop.americaridesmaps.com/Full-Southeast-Package-All-9-Maps-SE9.htm
————————————————————————————
– Wayne Busch lives in Waynesville, NC, where he produces the most detailed and comprehensive and up-to-date motorcycle pocket maps of the Blue Ridge and Smoky Mountains to help you get the most of your vacation experience. See them here – AmericaRidesMaps.com